"According to Movement, a story in ten chapters"
Béatriz Mediavilla's film-poem selected in official competition at FIFA 2021!
Montréal, March 11, 2021 – "According to Movement, a story in ten chapters" by director Béatriz Mediavilla from Rouyn-Noranda, based on choreographies by French artist Thierry Thieû Niang, will be in official competition at the 39th edition of the Montréal International Festival of Films on Art (FIFA), which will take place online from March 16 to 28, 2021.
"According to movement: It is the movement of the danced body, but it is also the movement of immigration, also the movement that one must make to go towards the other, also the movement of one's own body towards old age …"

Béatriz Mediavilla
In the summer of 2017, the director of Cinédanse Sylvain Bleau invited Béatriz Mediavilla to follow the tour "Dancing Spring in Summer!" the series of intergenerational workshops, the French choreographer offered throughout Québec. The artists' caravan met with volunteer groups of seniors and youth from Montréal to Saint-Jean-Port-Joli, from Paspébiac to Rouyn-Noranda, passing by Ottawa. Sylvain Bleau, who wanted to question, through dance, our relationship with the elderly and the links between generations, had given the director complete freedom. Today he is delighted and seduced by her film, which he believes is full of hope for the times we live in.
Deep and impressionistic reflections by Sunday dancers and experienced artists – Innu poet Joséphine Bacon, great contemporary dance pioneer in Québec Martine Époque and young actor and writer Antoine Charbonneau-Demers – are juxtaposed with the dances that Dominique Leclerc's camera captures so intimately.
"… The pandemic isolates us, inhibits our relationship with each other. Seeing the film today or seeing it a year ago is completely different."

Béatriz Mediavilla
An offer for the cultural community and a tour to come!
Cinédanse has prepared an offer of virtual activities developed around the film! To consult the complete offer and to register, please click here.
We will hit the road again for a tour of Québec, Ontario and Acadia with the filmmaker and the choreographer somewhere this fall.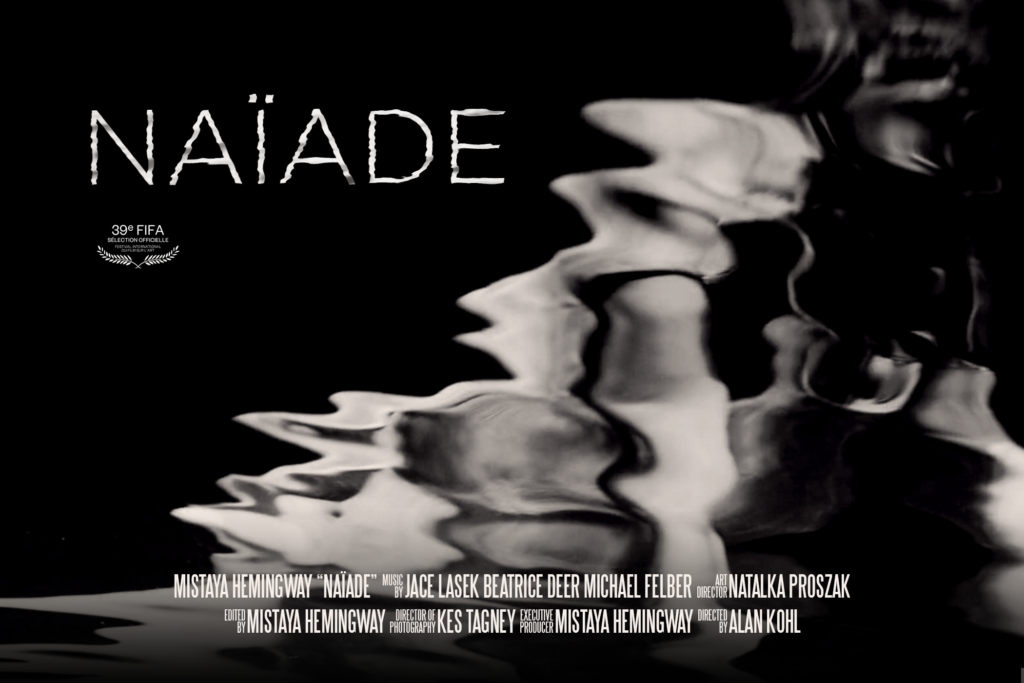 World premiere of « Naïade", new film by Mistaya Hemingway also presented at FIFA 2021
Mistaya Hemingway, one of Édouard Lock's great performers at La La La Human Steps – notably the beautiful show and film "Amelia" – reveals herself through her new film Naïade.  She amazes and dazzles us, both as director and performer.
Naïade is a reflection on how self-image and self-perception have changed in the post #MeToo era. What do we decide to keep and what do we leave behind? Using water as a feedback loop, the gasping breath of Inuit throat singers Beatrice Deer and Pauyungie Nutaraaluk and the haunting music of Michael Felber and Jace Lasek, Naïade dives us into the depths of consciousness.
Don't miss the online broadcast of Béatriz Mediavilla's "According to Movement" and Mistaya Hemingway's "Naïade" from March 16 to 28, 2021 on the FIFA platform.
Cinédanse in podcast !  
Cinédanse is pleased to announce that we will be launching our first French podcast series this spring "Pourquoi danser quand il y tant à faire ?" As our first guest: Béatriz Mediavilla. The English podcast entitled "Shall We Dance?" will be produced later on.
Stay tuned on our social networks and keep an eye on our newsletters…
About Cinédanse
Founded by Sylvain Bleau nearly ten years ago, La Caravane de Phœbus, an organization driven by humanist and progressive values – producer of the Cinédanse events and related activities, works in dance and in several other disciplines that revolve around it: cinema, visual arts and digital arts. After editions in Montréal in 2012, Québec City in 2015 and Ottawa in 2019, the destination of our next Cinédanse will soon be announced…
-30-
Press relations
Châtelaine Côté-Rioux, production manager
(819) 473-0319 / prod@cinedanse.ca