Cinédanse 2015 edition – Québec
"Because our world truly needs to dance."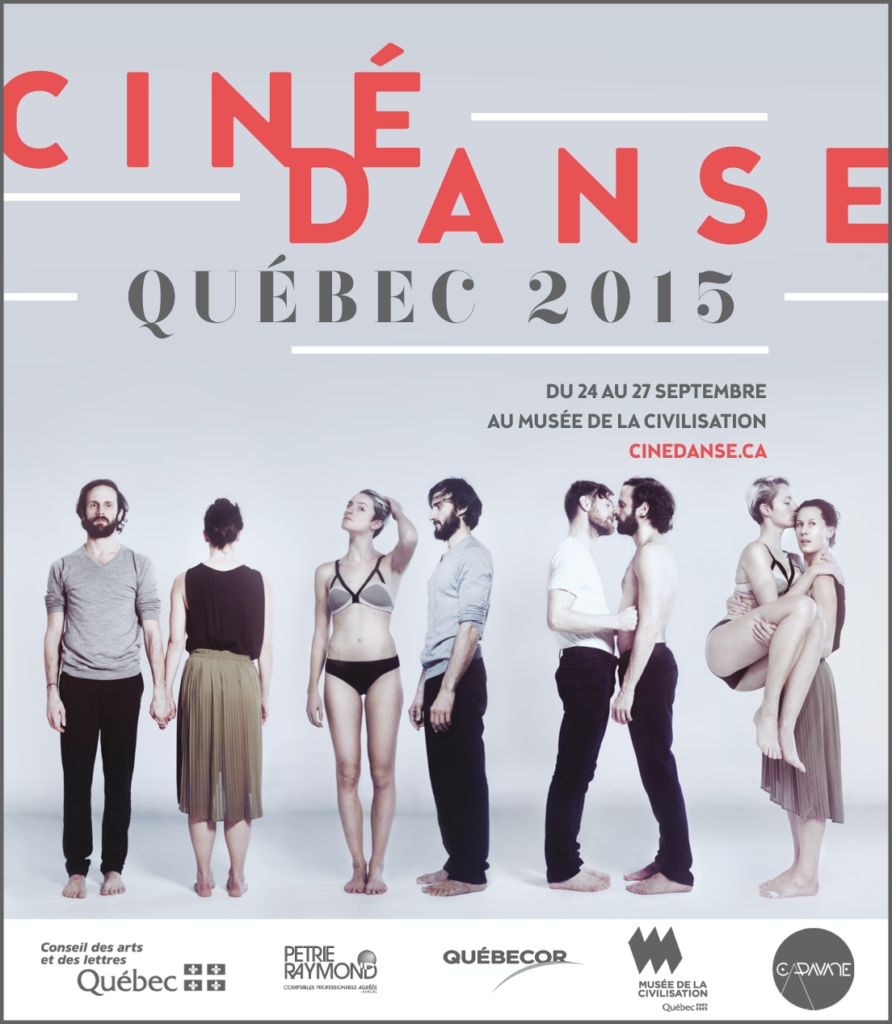 The 2nd edition of the Cinédanse event was held in Quebec City at the "Musée de la Civilisation" from September 24 to 27, 2015, in conjunction with the great exhibition on contemporary dance "Corps Rebelles".
More than fifty films and shows from fifteen countries were on the program.
The creations of a remarkable women filmmakers, choreographers and performers were showcased at this unique event in the country. Several of them were present in person to share their work with the public.
The great Indian dancer Shantala Shivalingappa who has worked with Maurice Béjart, Pina Bausch, Peter Brook and Sidi Larbi Cherkaoui opened the event by performing on the stage of the Museum's Roland-Arpin Auditorium the short piece "Solo" that she created with Bausch. The documentary "Shantala", a film by Quebecer Ezra Belotte-Cousineau, was subsequently screened in its North American premiere. In closing, Rouyn-Noranda director Béatriz Mediavilla presented her poetic documentary "Danse avec elles", which she dedicated to her teacher Lynn Vaillancourt, who has been teaching dance for 45 years to students at the PRELV school in Rouyn-Noranda, Abitibi-Témiscamingue.
The creations of Chantal Caron, the inspiring choreographer from Saint-Jean-Port-Joli, young up-and-coming choreographers Moïa Jobin-Paré, Ariane Voineau and Josiane Bernier from Quebec City, and Montrealers Ariane Boulet, Louise Lecavalier, Isabelle Hayeur, Carol Prieur, Virginie Brunelle and Katya Montaignac were also presented. New York visual artist and performer Jil Guyon, Catalan filmmaker Isabel Rocamora and Flemish choreographer Ann van den Broek were among the headliners of the event.
"Because often words don't mean anything" to the question, why dancing when there is so much to do?"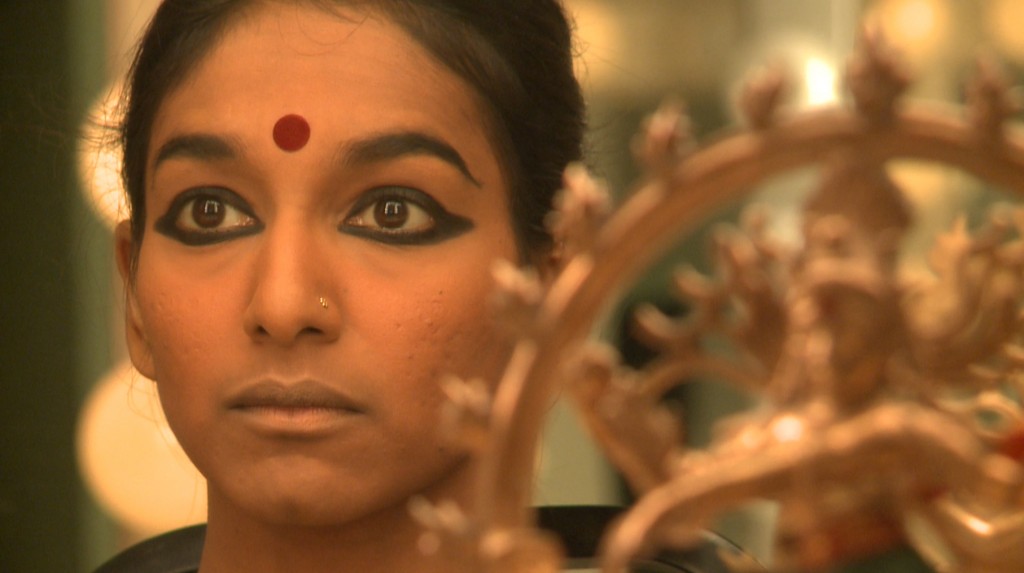 From London to New York, from Philadelphia to San Francisco, from Montreal to Paris, director Ezra Belotte-Cousineau follows Shantala and tries to capture, through his dance and interviews, the essence of this character, discreet indeed, but animated by a burning passion for his profession and for her fellows.
Dir : Ezra Belotte-Cousineau | Chor : Shantala Shivalingappa | 2014 | 60'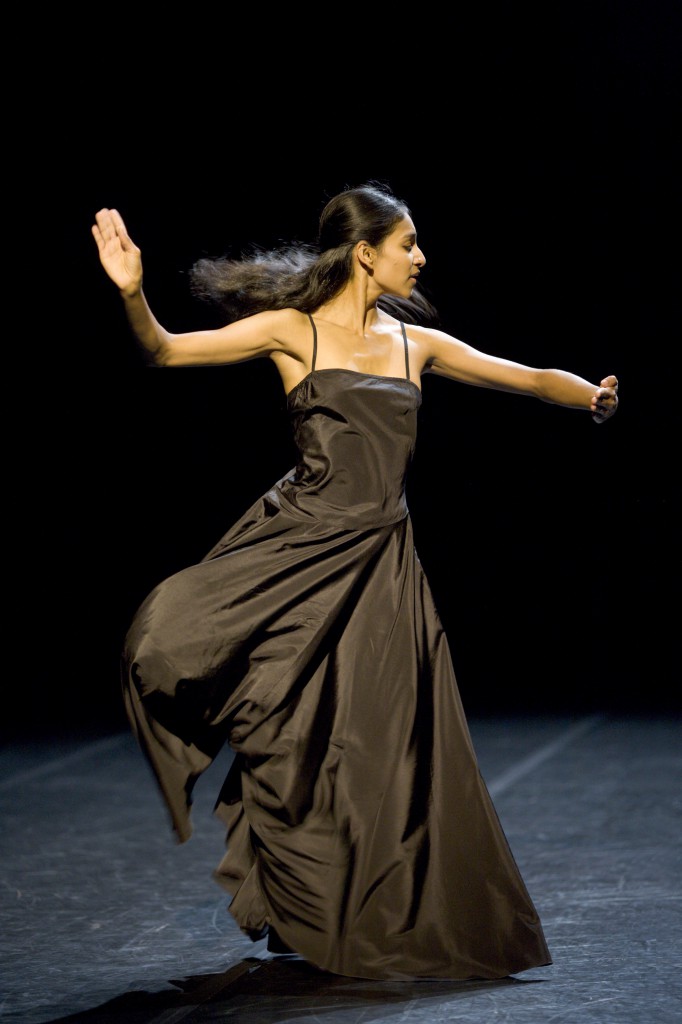 The great Indian dancer Shantala Shivalingappa opened the event by performing the short play "Solo" that she created with Pina Bausch.
Chor : Shantala Shivalingappa / Pina Bausch | Performer : Shantala Shivalingappa
"Presented in various festivals, among others, in Montreal, Quebec, Toronto and Vancouver, but also Havana, Zaragoza and New York."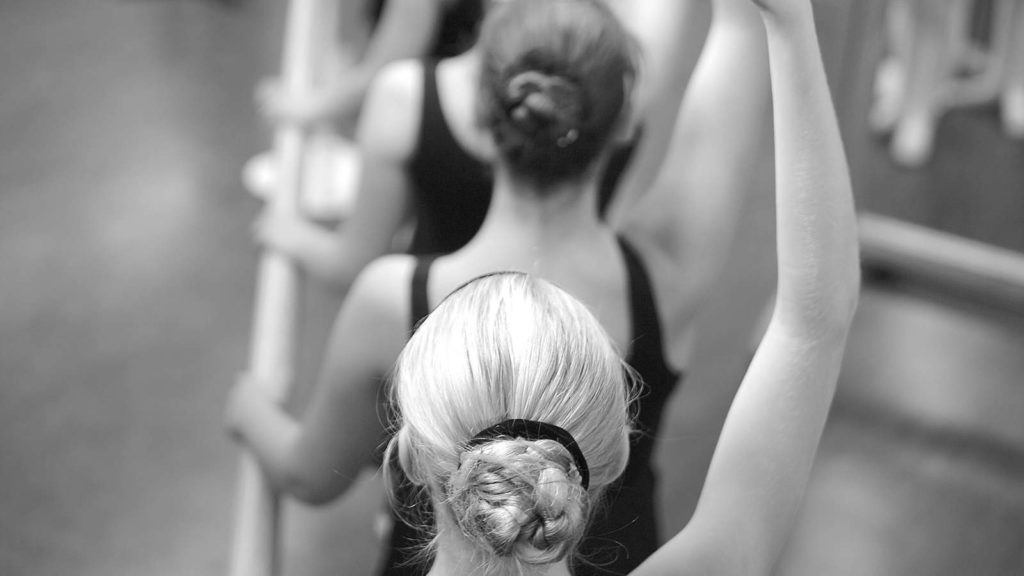 In Rouyn-Noranda, in Abitibi-Témiscamingue, there is a dance school directed by the same person for 45 years, choreographer Lynn Vaillancourt.
For one year, the filmmaker Béatriz Mediavilla was integrated into PRELV's activities to bring out the particularities of this school and the links that unite the young students.
Dir : Béatriz Mediavilla | 2014 | 89'
"… A touching dance sung in the form of a funeral procession in the heart of nature, transfiguring ritual and tradition. "

Le Devoir (Montreal)
The film "Lay Me Low" by Sandy Silva and Marlene Millar was selected by the jury chaired by Martine Époque. The other members of this jury were: from Québec City, Josianne Desloges, visual art journalist and columnist for Le Soleil newspaper, Sébastien Hudon, artistic director of La Bande-Vidéo; Kathleya Afanador, Manager of Programming and Content Acquisition at TenduTV (New-York); Greta Schoenberg, founder and artistic director of the San Francisco Dance Film Festival and 'Mor Shani, young Israeli choreographer and dancer.
The jury described the work as "an accomplished film in which all the elements come together with strength. There is nothing too much, nothing extra, nothing in excess. The sobriety, the efficiency of the means chosen and the authenticity of the interpretation make it a unique, luminous and universal work. "Lay me low" is a sensitive and fascinating film.
Dir : Sandy Silva et Marlene Millar | 2015 | 8'
"Decorated with many prestigious awards around the world, in Hollywood, Liège, Angoulême, Réunion Island (France), CODA is a true audio-visual experience of a rare beauty. The artwork illustrates the fragility of the human condition."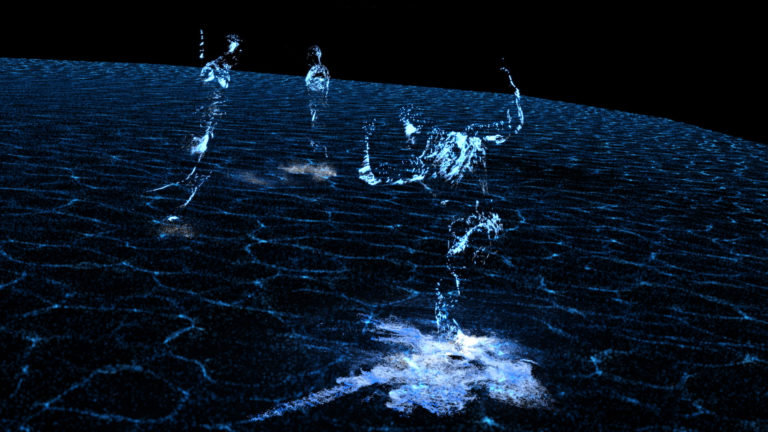 The film CODA, signed by the tandem formed by screen dance pioneers Martine Époque and Denis Poulin, can be considered the very essence of the work of art of the 21st century, the one that will flood our museums and public art in the coming decades.
It is the Hourshid & Mehrshid Afrakhteh sisters – the TwinMuse – young Montreal virtuosos of Iranian origin, who will perform excerpts from the final movement of Stravinsky's famous Rite of Spring (four-handed version at the same piano).
Co-produced with the support of the National Film Board of Canada and FAKE Digital Entertainment, this animated short film offers a new vision of dance in cinema, thanks to its use of advanced digital technologies, including motion capture (MoCap) and particle processing.
Dir : Denis Poulin & Martine Époque | Chor : Martine Époque & Frédérick Gravel | QC | 2014 | 11′
"Meeting with a choreographer who brings another tone to the dance."
This powerful documentary is the result of seven years of work for 20 retired people from Marseille with the French choreographer Thierry Thieû Niang. Nurses, housewives, teachers and doctors, aged 60 to 87, with no choreographic experience, interpret a variation of Stravinsky's masterpiece The Rite of Spring.
The film retraces an extraordinary experience, marked by humanity and determination.
Dir : Philippe Chevallier and Denis Sneguirev | Chor : Thierry Thieû Niang | France | 2013 | 52'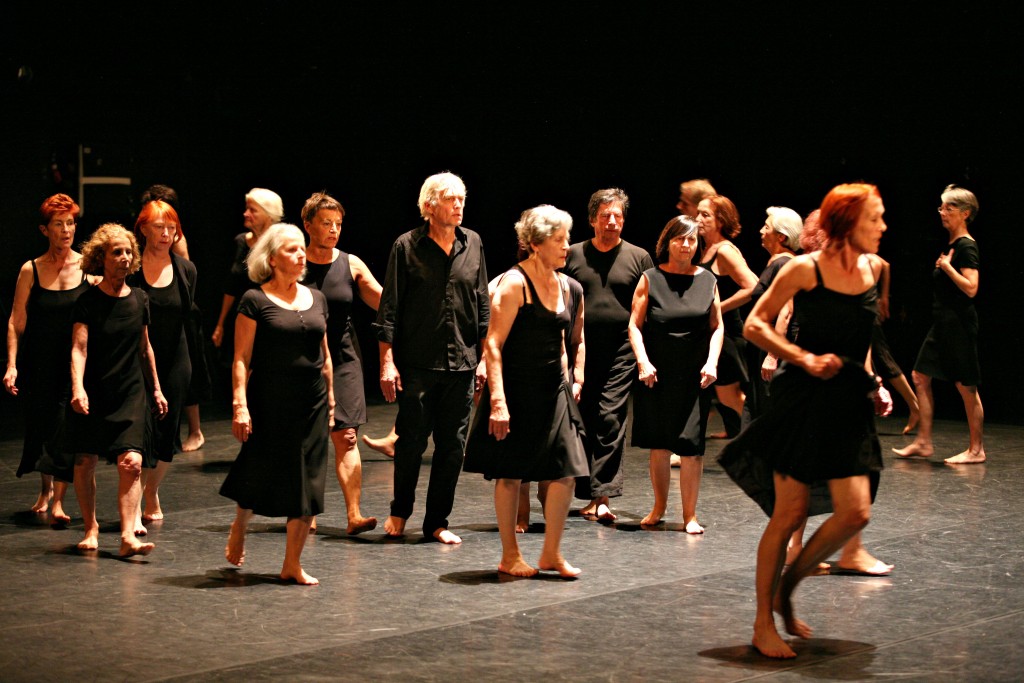 In Quebec City, the workshop of the French choreographer Thierry Thieû Niang was for about twenty people over 60 years old. The artist proposed a dance experience based on one of his works … Du Printemps ! a free adaptation of Igor Stravinsky's famous Rite of Spring.
Jane Austen said, "There are as many expressions of love as there are moments in time. But what is the difference between one love and another?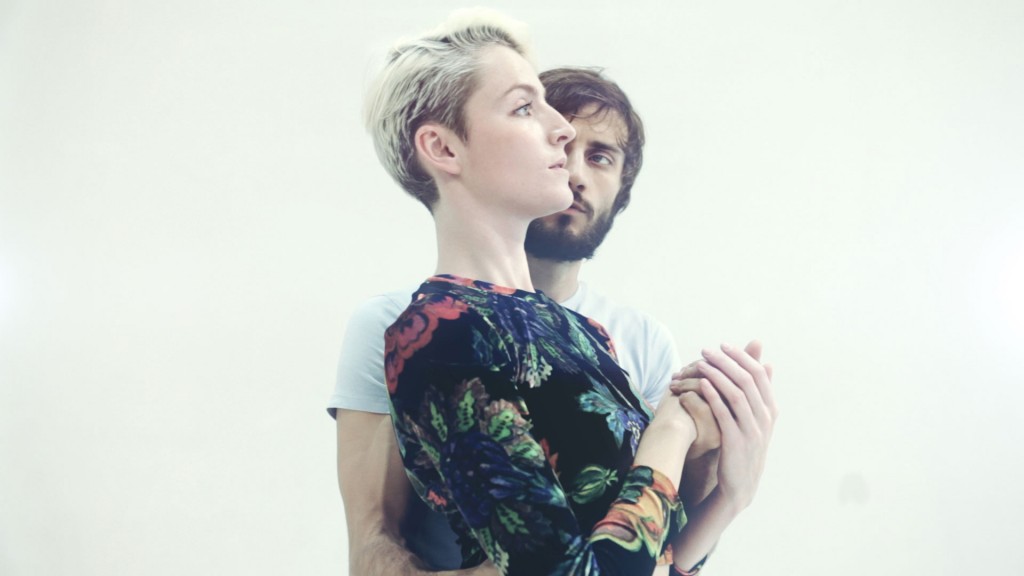 The Israeli choreographer Mor Shani was inspired by Erich Fromm's Art of Loving (1956) to imagine Love-ism, a work that seeks to understand the different shapes of love that unite human beings.
He continues the creative process in a series of workshops with non-dancers. Shani, who wants to take dance out of the studios and make it accessible to all.
Fifteen people attended Mor Shani's workshop in Quebec City. Luminous footage filmed by Sixta with workshop participants were integrated into the film presented to the Quebec City audience.
Dir : Paul Sixta | Chor : Mor Shani 2014 | 53'
"Haunting and wonderful" Houston Press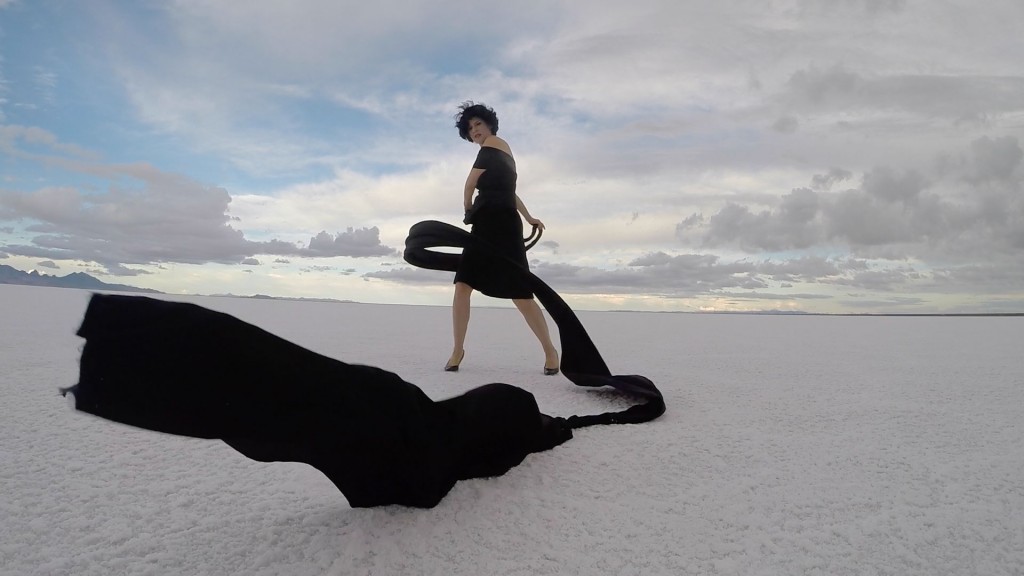 Widow is the filmed recreation of the in situ performance by New Yorker Jil Guyon. Her film presents the gradual untangling of a woman's inner world. The evolving mystery of her psychological condition is gradually revealed through a disturbing calm, sharp gestures and extreme emotions. Precise choreographic movements emerge, with the veil that the beautiful woman hugs. Electronic sounds and overwhelming silence create changing paintings of images evocative of her struggle where she transcends her ruptures, her disenchantments.
The two other films "Desert Widow" and "Vigil" were also screened.
"We are all Widows": says Jil Guyon
Dir : Jil Guyon | Chor : Jil Guyon | Comp. Chris Becker | USA | 2013 | 11'57
"A Real Masterpiece"

Artforum International Magazine, New-York (March 2009) about "Horizon of Exile"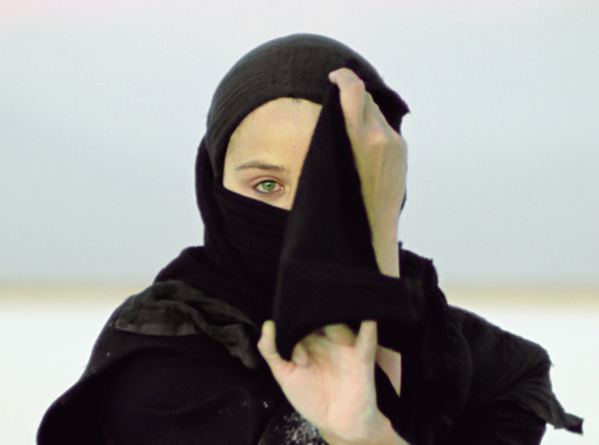 The Catalan Isabel Rocamora is now recognized as one of the most inspired dance filmmakers in the world. In her films, Rocamora approaches the themes of religion, power and war, and old age with remarkable sharpness. She takes inspiration from the delicate subjects of our time to turn them into poetic works, full of truth.
The films of this humanist artist have been produced by the BBC, Arte, Channel 3 of Spain and are exhibited in major museums and avant-garde galleries in Florence, Stockholm, San Francisco, Havana and Hong Kong.
Horizon of Exile
In Horizon of Exile, Rocamora makes us live the hard desert crossing of two women whose inner movement invades us, disturbs us. These two women from the Middle East leave their world out of their desire for emancipation. The film questions the condition of Muslim women, the esteem they hold for themselves, and their desire to vanish. Disturbing.
Dir : Isabel Rocamora | Chor : Isabel Rocamora | UK | 2007 | 22'
Promise of Fallen Time
A disaster has happened. A woman is struggling to survive, a man is waiting to die. In this dialogue between these two ageing bodies, "Promise of a Fallen Time" evokes all the fear that inhabits the one who is lost in the loved one who is leaving. Long before Haneke with his "Amour", Isabel Rocamora signed here a great poem about the end of life of a dying couple. With delicacy and without flattery, crudely, as she films it so well.
Dir : Isabel Rocamora | Chor : Isabel Rocamora | SP/UK | 2009 | 18′
Body of War
Isabel Rocamora brings back in Body of War the bare-handed combat ordeal. One becomes a soldier by the force of repeated acts of violence. She reminds us of the inner torments of soldiers that permeate their bodies, their psychology, their whole being. Even if conflicts today are the work of powerful machines, interfaces between the world powers, it is still the soldiers who are at war. With tenderness and through their testimonies, Body of War wants to be an intimate and brutal ode to the human behind the soldier, and questions the indoctrination, the instrumentation of our military structures. The film was shot on the very scene of the Normandy landings.
Dir : Isabel Rocamora | Chor.: Isabel Rocamora | UK | 2010 | 20'
"Best Screendance Short film at the San Francisco Dance Film Festival 2014"

" CALQ Award – Work of the year in Chaudière-Appalaches 2015″.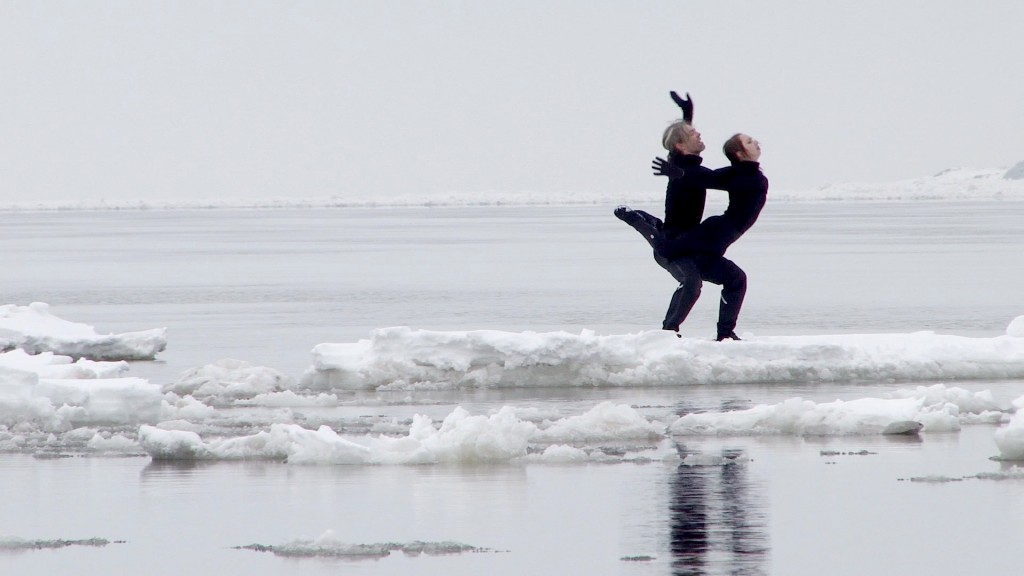 A dance film in the encounter with deep nature, "Glace, crevasse et dérive" symbolizes life, death and the time that carries us away. Choreographer Chantal Caron from Saint-Jean-Port-Joli has created a work of a rare beauty that mystifies the banks of the St. Lawrence River where, since the 1980s, she has been practicing her art with commitment and total symbiosis with the nature that surrounds her.
Dir : Chantal Caron & Albert Girard  | Chor :  Karine Gagné & Tomas Casey | 2014 | 9'42
"A distinction is awarded to "Le Cerf, ou moi qui cède à l'espace" for the audacity of the performance, an inspired imagery and a willingness to transcend scenographic and literary forms."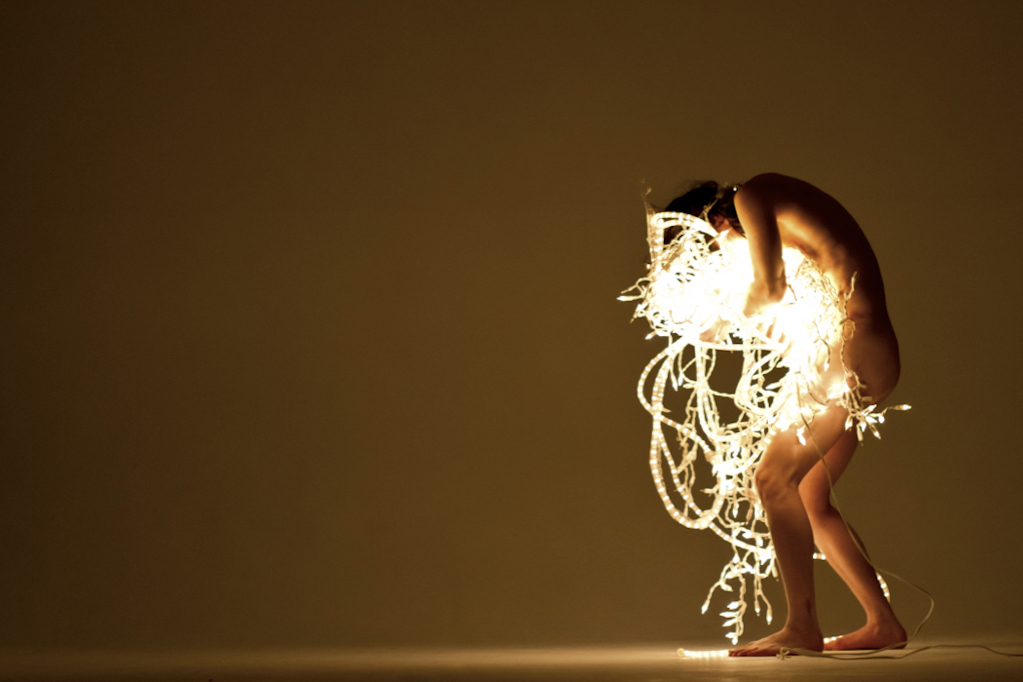 I am an animal. My border with the other is my skin, which carries the depth of my relationships. My nudity is shadow and light. My solitude is a noisy plain, a snow field to brave alone or a black box of lights from a past Christmas. The landscapes of my intimacy are warm and cold, full and empty, clear and dark. All these contrasts, vectors of my sense of identity, are anchored in the slowness of a contemplation hammering the urgency to run towards the horizon. In this body of exposed woman: the voice of the mature age, and that of a child of snow and electricity.
Dir :  Ariane Boulet 
& Andréa de Keijzer | Chor : Ariane Boulet | QC | 2011-2013 | 17'12
"A film that all dance lovers will certainly want to see more than once…"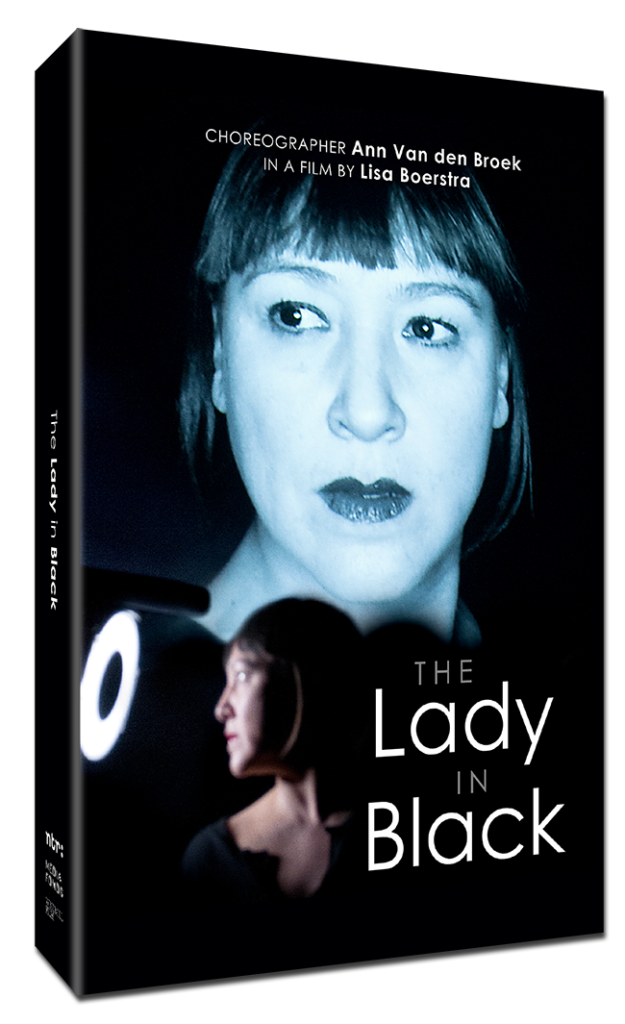 Through "The Lady in Black", immerse yourself in the world of the Flemish choreographer and dancer Ann van den Broek. This documentary, directed by Dutch director Lisa Boerstra, follows her through the creation of her piece and the international tours that follow at a breathtaking pace. You will discover dazzling clips from her pieces, her creative work and the stormy relationship with the dancers. The Lady in Black shows Van Der Broek in all his strength, sweetness, anger and tenderness.
Dir :  Lisa Boerstra | Chor : Ann van den Broek | NL | 2015 | 70′
"When humanity and dance are one."
A tribute to the great lady of New York dance, Cinédanse dedicated a session to the memory of her talent and greatness of soul. Two films shot by director Douglas Rosenberg showcase the artist.
Here Now with Sally Gross by Douglas Rosenberg
Dir : Douglas Rosenberg | Chor : Sally Gross | US | 2015 | 57′
https://vimeo.com/41507391
Circling by Douglas Rosenberg
Dir :  Lisa Boerstra | Chor : Sally Gross | US | 2012 | 15′
"Jury Prize at the Festival Pleins Écrans Montréal 2016"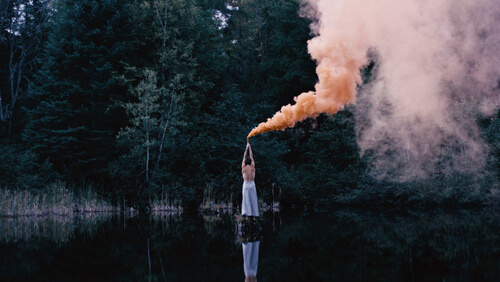 The film weaves a kind of abstract narrative, inviting the viewer to dive into the raw and fragile universe of a symbolic epic where humans are confronted with what is perishable or immutable. This work of dance on the screen is carried by an immanent intensity, where the bodies-landscapes collide with the inclement weather, regroup to better survive and calm down, together, in the depths of lulls.
Dir : Alan Lake | 2015 | QC | 22′
LE DEVOIR
"Le festival Cinédanse s'est conclu hier à Québec en décernant le premier prix Lumière à la réalisatrice Marlene Millar et à la chorégraphe Sandy Silva. Déjà salué à Cinedans Amsterdam et à l'Utah Dance Film Festival, leur court-métrage Lay Me Low déploie une touchante danse chantée en forme de procession funèbre en pleine nature, transfigurant rituel et tradition.
Les lauréates bénéficieront d'une résidence de trois semaines d'une valeur de 20 000 $ pour créer un nouveau film d'art à Québec, grâce aux organismes Spira, La Bande Vidéo et La Rotonde, le centre chorégraphique contemporain de Québec. L'oeuvre sera présentée lors de la prochaine édition de Cinédanse en 2017."
LE SOLEIL
La danse et le cinéma, deux arts où le mouvement est central, se font de l'oeil depuis les films des frères Lumière. Ils scellent toutefois leur union avec Cinédanse, qui aura lieu du 24 au 27 septembre au Musée de la civilisation (MCQ) et mettra en valeur de grands danseurs et chorégraphes d'ici et d'ailleurs.
MÉDIA DES 2 RIVES
CINÉDANSE QUÉBEC 2015 soirée d'ouverture grandiose et plus encore.
C'est ce jeudi 24 septembre 2015, à 19 h, qu'a eu lieu à l'auditorium Roland-Arpin du Musée de la civilisation à Québec, la soirée d'ouverture du grand événement Cinédanse Québec 2015, animée par Sébastien Diaz. Pour nous mettre dans l'ambiance de la danse on nous présente Serpentine et Between en première partie.