Introduction to pow wow dance
Workshop with Nyla Carpentier, Raven Spirit Dance (Vancouver)
Outdoor Public Workshop
11 am – 12:30 pm | Exterior courtyard | SAW Gallery
67 Nicholas
Free
Mixed heritage of Tahltan First Nation, Kaska First Nation, French and Scottish artist Nyla Carpentier is thrilled to return to her hometown of Ottawa to offer this class on pow wow.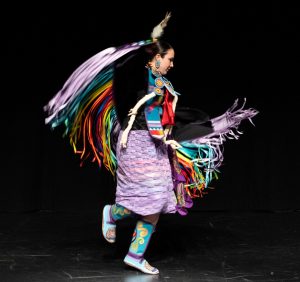 During the workshop, she will introduce you to the history and culture of this First Nations dance style, and teach you the dances that her elders and loved ones have passed on from her earliest years.
Come and join in on this extraordinary experience. You will be charmed by this Indigenous artist, who sails between dance and theatre. Nyla currently lives and practices her art in Vancouver.